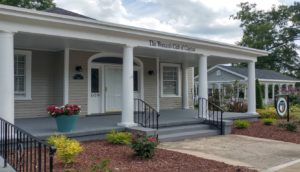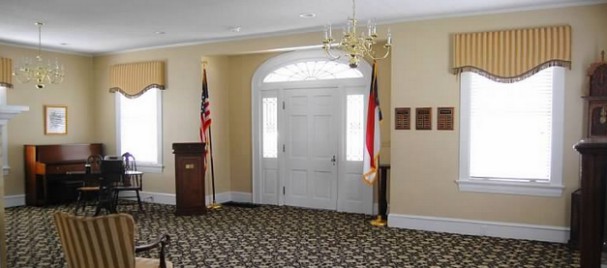 Sample of Clubhouse transformed for a wedding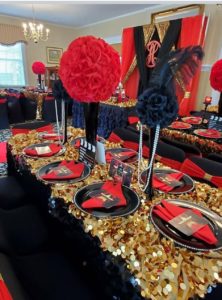 The Woman's Club of Clayton Clubhouse is a wonderful location for small weddings, showers, parties, and meetings.  The rental includes both the Clubhouse and the Gazebo located at 109 S. Church Street, Clayton, NC (across the street from Hocutt-Ellington Library).
Clubhouse Rental Calendar – Available Dates
Please contact Loretta Mascia at 949-372-9894 for more information and to make reservations.  To rent the Clubhouse for a private event, please fill out a Rental Application and email Loretta at lmascia@twccnc.org.
All rentals require a $100 deposit before the key can be picked up.  This deposit will be returned after the key is returned and an inspection has been made.
Rental hours shall be restricted to the hours of 6:00 am and 11:00 pm.
Renter is responsible for any loss, breakage, or damage.
Renter must furnish his/her own tablecloths.
No equipment or furnishings may be removed from the Clubhouse facility.
Only brown metal chairs (not padded chairs) may be taken to the gazebo and returned to the back porch.
Never move the piano, large dining table, buffet, cabinets, or any other furniture.
No birdseed or confetti.
Thumbtacks, nails, staples, tape, etc. may not be used on the walls, woodwork, ceiling, or furniture.
No vehicles may be driven on the lawn.
The building is not to be used for dance parties.  Dancing is restricted to the gazebo only.
No open-flame candles.
No smoking on the premises.
Renters must leave the Clubhouse in order as follows:
Folding tables must be returned to the back porch.
Padded metal chairs must be folded and stacked on each side at rear of dining area.
Kitchen floors must be swept and mopped.  Mop and broom are on the back porch.
Please leave kitchen cabinets, table, and stove free of crumbs and food.
Please leave the bathroom clean and its trash empty.  Leave the bathroom door partly open.
Garbage cans must be emptied.  Garbage should be placed in the receptacle by the back door steps.
Please leave clean garbage bags in the trash cans.  Garbage bags are located in the cabinet by the sink.
Dishwashers may be used.  All dishes should be returned to their proper place.
Punch cups and plates are in the bottom cabinet to the right when you walk into the kitchen.
Be sure that all doors are locked.
After cleaning, please put the key back in the lock box, push the button upward, and spin the dial to lock.
If you find something broken or needing attention, please report it to the Rental Custodian, Loretta Mascia at 949-372-9894.
Available Tables:
Dining Table Size: 85″ x 45″
Conference table: 45″ square
There are 10 six-foot folding tables
Securely pay rent online